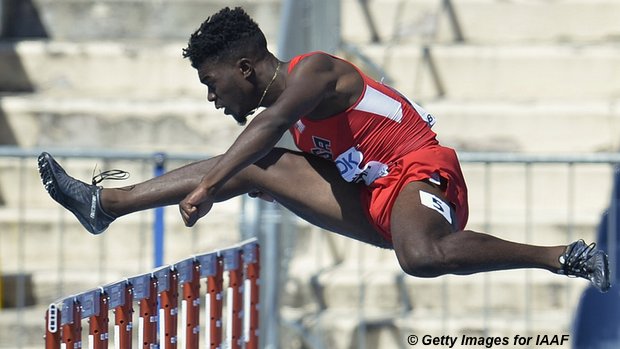 Hillside senior Marcus Krah had one final race before heading off to UNC-Chapel Hill in the fall. Krah won both his prelim and semi-final section to advance to the finals with ease at the U20 World Champinships in Bydgoszcz, Poland.
Krah's postseason has been a dream come true, where he won three state titles (TJ, LJ, 100mH) to lead his Hillside team to a state title. Then conquered New Balance Outdoor Nationals title over VA rival Grant Holloway in New US#1 fashion. Halloway and Krah battled once again against college competition at the US Junior Championships where Krah walked away as the US Junior Champion clocking a wind legal 13.25!

Today, Krah entered the final having the second best PR amongst the field of 13.25. He also put his undefeated season on the line in the 110mH. His start was smooth as always and he had the third best reaction in the field. Hurdle after hurdle Krah picked up pace all the way through the line. He crossed the line matching his PR of 13.25 with US teammate Amere Lattin right behind him at 13.30, race was under legal wind.
Here is a photo of the finish for the finals as Krah finishes just ahead of Lattin.
Krah ends his 2016 outdoor season with 6 individual state titles, 2 national titles, and one world title. Congrats to Marcus and way to represent North Carolina and the US in the best way possible!
Here is Marcus on his road to the final.
Here is Krah after winning the the gold medal!


We will add more updates and post his post-race interview when they become available.